Today the Country Music Association announced Bobby Bare as a 2013 inductee into the Country Music Hall of Fame, in the Veterans Artist category. Read the official announcement here: http://reut.rs/14Xrydi Bobby Bare has logged 30 Top 20 singles over the course of his 50-year career, won a GRAMMY Award and has multiple GRAMMY nominations. He released his first album in 7 years, the lauded 'Darker Than Light,' on Nashville's Plowboy Records last fall and has since made high profile appearances at the Grand Ole Opry and SXSW. Bare recorded 'Darker Than Light' at RCA Studio B, the same studio he used to cut his first album, in 1962.
http://www.youtube.com/watch?v=Vvd9u23w4Xo
The Bobby Bare release, Darker Than Light, is now out on the Plowboy Records label. Produced by Plowboy co-founder Don Cusic and recorded at Nashville's historic RCA Studio B.
---
'Darker Than Light' was produced by Plowboy Records co-founder Don Cusic and tracked at famed RCA Studio B in Nashville, with a band that includes Buddy Miller and Randy Scruggs on guitar, Byron House on bass, Marco Giovino on drums and other members of Robert Plant's Band Of Joy. The album is Bare's first release in seven years, and features his inspired interpretations of songs by Bob Dylan, Alejandro Escovedo (who also makes a guest appearance), Lead Belly and others, plus new originals.
Bare's deep, unvarnished voice and his first-rate band's colorful string work guide 'Darker Than Light' from the moody "Boll Weevil" to the foot-stomping Woody Guthrie cover "Going Down The Road Feeling Bad (I Ain't Going To Be Treated This Way )" and heart-breaker ballads "Dark As A Dungeon," a Merle Travis song, and "Shenandoah."
'Darker Than Light' also includes a cover of U2's "I Still Haven't Found What I'm Looking For," and "The Devil & Billy Markham," which puts music to the words of a Shel Silverstein poem originally published in 1979. Also, 27-time GRAMMY winner Vince Gill makes a guest appearance on vocals during original number, "I Was A Young Man Once"
Plowboy Records was launched earlier this year by punk legend and former member of the Dead Boys Cheetah Chrome, country music expert/author and professor Don Cusic, and Eddy Arnold's grandson and businessman/musician Shannon Pollard. The label was created to further the legacy of the original Tennessee Plowboy, the late Country singing legend Eddy Arnold, and provide a home for recordings that focus on American music, regardless of genre.
Cheetah will also be portrayed by Rupert Grint in an upcoming film about famed NYC venue, CBGBs.
Now 77 and sounding better than ever, Bobby Bare has earned over 30 Top 20 hits, a Grammy award, and multiple Grammy nominations in a career that spans over 50 years. He will tour in support of 'Darker Than Light' with dates to be announced soon.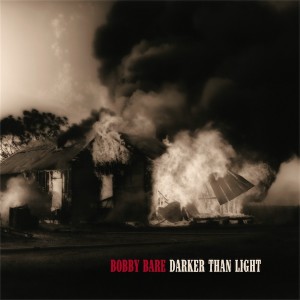 Track list here:
1. Going Down The Road Feeling Bad (I Ain't Going To Be Treated This Way)
2. John Hardy
3. Boll Weevil
4. Farewell Angelina
5. House of the Rising Sun
6. Lookout Mountain
7. I Was Drunk
8. Still Haven't Found What I'm Looking For
9. Dark as a Dungeon
10. I Was a Young Man Once
11. Banks of the Ohio
12. Shenandoah
13. Woody
14. Tennessee Stud
15. Tom Dooley
16. The Devil and Billy Markam